Clashing Perspectives On The Offensive Line
March 23rd, 2020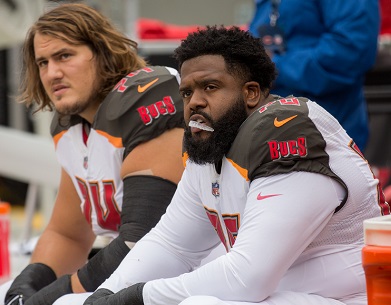 Opinions vary on what Tom Brady might expect to endure behind the Tampa Bay offensive line.
Even former Bucs quarterbacks have different perspectives.
In the video below, you'll see ex-Bucs QB Chris Simms say he saw a 2019 Brady who was "reluctant to hold on to the ball and take those shots," the kind typically endured by Bucco Bruce Arians quarterbacks.
Simms believes over-the-middle quick Patriots throws to Julian Edelman and Wes Welker are the kinds of passes lacking in the Arians offense. So Simms expects Arians to say to Brady, "teach me how you did this all these years in New England."
Of course, a shortened offseason means the Bucs from top to bottom will have less time to get in sync.
Assigned — and paid — to break down film on every quarterback during football season for Pro Football Focus, ex-Bucs QB Bruce Gradkowski is very confident in the methodology of the PFF Tribe and spoke about it recently on SiriusXM NFL Radio. Gradkowski told readers that The Tribe ranked the Bucs O-line three positions better than the Patriots', so Brady should expect better protection than he's used to.
If Gradkowski is accurate, combined with Brady's better in-game recognition and quicker release than Jameis Winston, amazing things should be happening to the Bucs offense this season.