Considering Desire
March 5th, 2020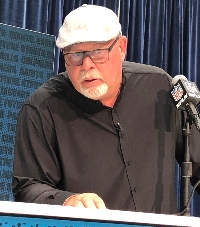 Former Titans team president and Vikings general manager Jeff Diamond has weighed in with a slightly different angle on Decision Jameis.
And it got Joe's antennae up because of something Bucco Bruce Arians noted last week in a private chat with Joe and local reporters at the NFL Scouting Combine.
Arians specifically was talking about the priority difference when it comes to re-signing Shaq Barrett versus America's Quarterback, Jameis Winston.
"And I know he wants to be in this defense," Arians emphasized about Shaq.
At the time it got Joe thinking about how Joe hasn't heard Arians or general manager Jason Licht mention how much Jameis wants to return to the Bucs. Perhaps he prefers a fresh start?
Regardless, Diamond published a piece for Sporting News yesterday calling Bridgewater to the Bucs and ideal fit for various reasons, and one was Bridgewater being eager to play for Arians and the Bucs' staff of noted QB gurus who could further develop him.
Imagine if Bridgewater's camp let Arians know how much he wants to play for him specifically, and return to his home state. Maybe that hunger would matter to Arians, especially if it's in contrast to a Jameis camp in money-first mode.
Joe is not jumping on a table screaming for Bridgewater, but Joe would understand if Arians thought he could get more out of 27-year-old Bridgwater than anyone has seen in his 34 career starts. After all, Arians thinks the world of his coaching staff and does not publicly accept a shred of blame for Jameis' massive interception total.