Is Ryan Tannehill In Play?
March 5th, 2020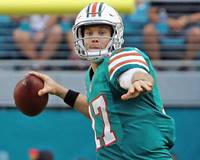 The potential Buccaneers quarterback rarely discussed is Titans soon-to-be free agent Ryan Tannehill, and believe it or not, the 31-year has a winning record in 101 career starts.
And Bucco Bruce Arians did say he likes being around winning QBs.
Including a 2-1 playoff record, Tannehill is 51-50 as a starter on teams that often lacked an extraordinary supporting cast.
But that's the not the point here, Tannehill is a guy capable of pumping the football downfield and he will protect the football. Former Bucs QB Chris Simms talked about that at length on NBC Sports Radio.
Twice Tannehill had 4,000-plus passing seasons with the Dolphins, and he's thrown just 28 interceptions in his last 37 starts, including playoffs.  He might be a Bucco Bruce Arians kind of guy, and little is being discussed of Tannehill improving under Clyde Christensen when they worked closely during the 2016 season in Miami.
Chirstensen spoke about his respect for Tannehill on Indiana sports radio last week.
Joe listened and walked away thinking Tannehill is someone that could be on the list of door No. 2 prospects because of Christensen's strong connection. After all, Christensen was tasked with evaluating Tom Brady film for Arians, so it's reasonable to think Tannehill was on his list, too.
Tannehill twice faced Arians' Cardinals teams. In 2012, he was 26-for-41 for 431 yards with 1 touchdown and 2 picks in a loss. In 2016, he outdueled Carson Palmer; Tannehill threw that day for 195 yards with 3 touchdowns and 1 interception while completing 75 percent of his passes.
Against Todd Bowles' Jets teams, Tannehill had 8 touchdowns and 3 picks in four games.