Bryan Bulaga Set To Break Free
March 11th, 2020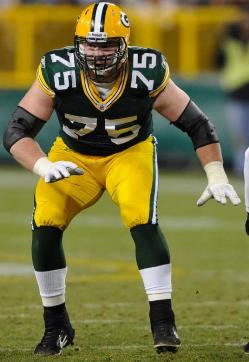 As Joe has asked previously, would the Bucs dare swap their 34-year-old right tackle for a much younger model with more mileage on his tires and a load of playoff experience?
Beat writer Jim Owczarski of the Milwaukee Journal Sentinel is typing that the Packers have shown scant interest in re-signing their starting right tackle, Bryan Bulaga.
Bulaga turns 31 next week but he's got 10 NFL seasons on his wheels. The Packers' 2010 first-round pick made his 119th career start in Green Bay's loss to the 49ers. Old man Bucs free agent Demar Dotson, 34, has 106 starts under his belt.
Like Dotson, Bulaga is well known for his pass blocking and he would bring fresh juice to a Bucs line that's been the same for the past two seasons. His landing in Tampa also could help soothe a veteran free agent quarterback who might be leery of the Bucs' offensive line.
Back in 2015, published reports claimed the Bucs were in the hunt for Bulaga in free agency. Yeah, that's an NFL lifetime ago, but Jason Licht remains alongside Bucco Bruce Arians.
The Bucs need a youth injection on O-line, but Bulaga sure feels like a solid and affordable quick fix for a regime that can't afford another losing season in 2020.