Close The Deal
March 13th, 2020
BY IRA KAUFMAN
All's fair in love, war and the pursuit of Tom Brady.
If some national reports are accurate, the Bucs and 49ers could find themselves competing for Brady's services as a free agent next week in a high-stakes Battle of the Bays. These organizations are coming from two distinct positions in the NFL hierarchy, but Brady looms as a common target.
In Tampa Bay's case, we don't have to speculate about the organization's interest in a first-ballot Hall of Famer. Asked to reveal his choice for a quarterback potentially standing behind Door No. 2, Bruce Arians didn't hesitate.
He immediately mentioned Brady by name, which was a breach of league protocol.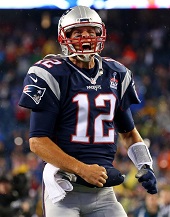 Shame on you, coach. Arians couldn't help himself. He couldn't contain his excitement about possibly signing a quarterback who needs both hands to display all of his Super Bowl rings.
Silence Of The Champs
San Francisco's objectives aren't as clear.
What we do know is John Lynch and Kyle Shanahan haven't attempted to dispel the Brady rumors. That could be telling, or it may just be the organization's preference to not comment publicly on rampant speculation.
But let's remember one important fact. In 2017, after SF was initially rebuffed by the Patriots about acquiring Jimmy Garoppolo, Lynch called Bill Belichick back and asked if Brady was available.
Was Lynch serious? Darned right he was.
And at that point, the 49ers would have had to trade assets to New England for Brady. If Brady becomes a free agent next week, San Francisco won't owe the Patriots a thing — except a thank you.
Some would argue Brady-to-the-49ers doesn't make any sense. After all, Garappolo just helped San Francisco reach the Super Bowl, where the 49ers led KC 20-10 midway through the fourth quarter. You can't blame Garappolo for allowing the Chiefs to score three touchdowns down the stretch.
What you CAN blame him for was a shocking overthrow to Emmanuel Sanders with 93 seconds remaining and the 49ers trailing 24-20. Sanders somehow beat double coverage for what should have been a 49-yard touchdown, only to have his quarterback misfire badly, despite solid protection.
"He had him too, Joe," Troy Aikman said to Joe Buck after the ball skipped harmlessly through the end zone.
Then the FOX cameras shifted to Lynch, standing forlornly on the sidelines, watching the incompletion with arms folded. He never changed his expression, but Lynch might have been thinking to himself: "Brady would have completed that pass."
We'll never know, but Garappolo didn't distinguish himself in the moments leading up to that critical miss, either. On first down, his pass was deflected by defensive lineman Chris Jones. His second-down throw was almost intercepted. After he failed to connect with Sanders, Garappolo was sacked on fourth down.
Game over.
Sales Challenge
That sequence weighs heavily on the minds of Lynch and Shanahan as they shape the 2020 roster. Brady is 42 and Garappolo is 28, but this isn't about the future. San Francisco is built to win right now and Brady has proven himself to be the ultimate winner under center.
Brady grew up in San Mateo, 30 miles northwest of San Jose, and the 49ers could move on from Garappolo without suffering a massive salary-cap hit. The Bucs offer far more accomplished weapons in Mike Evans and Chris Godwin and an opportunity to turn around a forlorn franchise without Belichick's input.
Arians can be a heck of a salesman and the Glazers have been known to close a deal. If Brady hits free agency and signs elsewhere, that won't be a good look for One Buc Place.
Arians wants Brady and the Glazers want to keep Arians happy. Lynch is still thinking about Brady, three years removed. He's still contemplating the overthrow to Sanders that could have put the 49ers up 27-24.
Lynch will always consider himself a Buccaneer. He's proud to be in Tampa Bay's Ring of Honor, but this is Tom Brady we're talking about.
It's not personal, Joel, it's strictly business.