Beau Allen Joins The Belicheats
March 19th, 2020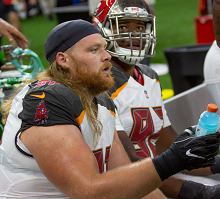 The Bucs got Tom Brady, and the Patriots got defensive tackle Beau Allen.
Remember when Bucs general manager Jason Licht signed that two-headed Eagles Super Bowl monster to fix the defensive line?
The first was Vinny Curry, who didn't really want to be in Tampa, so he admitted after he pocketed mounds of Team Glazer loot.
And the other was Allen, who battled injuries and just not being very good over two Bucs seasons. He did, however, like to smoke cigars, wear funny shirts and give money to charity.
Per NFL Network, Allen is a new member of the New England Patriots, signing a two-year, $8 million deal. And that usually means he'll now become a 10-sack, run-stuffing fiend. Anyone remember Chris Jones? The Bucs waved goodbye to him and he shined as a rookie and won a Super Bowl ring.
Bottom line: the Bucs shouldn't miss Allen and Joe wishes him well.