Star Power
March 19th, 2020
BY IRA KAUFMAN
The NFL, above all, is a business and Tom Brady is good business.
We shouldn't downplay the economic aspect of Brady's arrival in Tampa, where hope springs eternal among a battered fan base longing for a reason to believe.
Bruce Arians coveted Brady because he's the NFL's ultimate winner under center, but the Glazers hopped aboard the No. 12 express in part because Brady will also have an immediate impact off the field.
He already has.
Season-ticket requests are flooding in and those empty suites at Raymond James Stadium will now be filled with curious and casual Buc fans. That's what a Tom Brady brings, as opposed to a Philip Rivers or a Teddy Bridgewater.
It's called star quality. The Bucs just aimed for the stars and nailed the landing. With one stroke of the pen, Raymond James Stadium will be a happening place this fall. There will be celebrity sightings on the suite level and Troy Aikman figures to be a regular visitor in the broadcast booth.
And don't forget all those merchandise sales going through the roof of an indoor facility that should be renamed Bradyville. The Bucs will need expanded seating during outdoor practices at training camp to accommodate overflow crowds straining to see one of the most popular athletes in the world.
The Glazers brought a broad vision to this quest. They see Brady as a transformative addition, on and off the field. They see an irresistible brand to be marketed as the face of a suddenly dynamic franchise.
"I am a little disappointed to hear it's the Tampa Bay Buccaneers because, let's face it, that brand is not a very well-respected brand," said former Patriots linebacker Ted Johnson, speaking to NBC Sports Boston. "They haven't had relevancy for many, many years."
They have it now — to an unprecedented degree around these parts.
Glazer Focus
This was a well-coordinated effort all the way around. Once Arians designated Brady as his free-agent target, the Glazers went to work, removing all potential obstacles. Jason Licht tied it all together with Brady's representatives, resolving any money issues.
Goodbye Foxborough, hello Safety Harbor.
This isn't the first time the Glazers landed a big fish, once again tuning out the naysayers. They were criticized for spending too much money ($192 million) to purchase the franchise in 1995. Eight years later, they were ripped in some quarters for paying dearly to trade for Jon Gruden. In 2005, the family set its sights on Manchester United and closed the deal.
For each of the past 12 years, Buc seasons ended with the turn of the December calendar. Coaches, GMs and players came and went, but the losing remained. Perhaps that was the subtle allure of Tampa Bay for Brady, an opportunity to turn around a woebegone franchise.
Without Bill Belichick's help.
You can't manufacture star quality. You either have it or you don't.
Joe Namath has it. Eli Manning does not. Michael Jordan has it. Tim Duncan does not. Even though his physical skills have diminished, Brady remains a star.
He may not be able to fling a football 50 yards downfield on a string anymore, but he can still sell No. 12 jerseys like Namath used to. He  can't shed pass rushers like he did 10 years ago, but Brady knows how to handle himself in a crowd.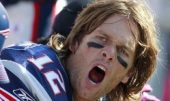 Winning More Than March
In a few years, Brady and Arians will ride off together in a golf cart. If Tampa Bay's playoff drought is still intact at that point, 2020 free agency will be looked upon as a time when the Bucs took their shot and came up short on the field.
"It's just not a franchise you think of as a championship caliber franchise," Johnson said.
Fair enough, but things can change, especially with an additional playoff slot awarded in each conference. Off the field, this move is already a winner. Season-ticket sales are soaring, Brady jerseys will soon hit the streets and the Bucs will be on prime time more often than Ryan Seacrest.
Yes, the marketing of Tom Brady has already begun … and it's a sight to behold.