Barber: Real Culture Change Would Take Tom Brady One Year
March 15th, 2020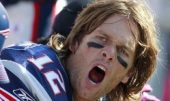 There are many perceptions and opinions out there on the state of the Buccaneers.
What's undeniable is that the team got off to a horrible start last season and had a horrible finish with two home losses to close a 7-9 campaign.
The incessant and seemingly endless losing culture at One Buc Palace continues, despite making a small stride in the right direction.
Of course, it's believed the next move of the regime is to re-sign Shaq Barrett and get Tom Brady at all costs.
Joe hopes part of the Brady goal is to bring in the ultimate Alpha-dog to fix the overall losing mindset in Tampa.
Perhaps even the rumor of Brady desiring a level of personnel control at his next stop is purely a notion created and spread by the Bucs. Why? So Brady will command even more locker room power when he arrives. (No, Joe doesn't think Bucs management is that smart, but it's fun to think they are.)
Tiki Barber has a strong tie to the Bucs, in addition to a job on CBS Sports Radio.
Barber said last week he's confident Brady's new team would get an "emotional lift from the greatest quarterback ever," but if Brady goes to a losing club, it's too long of a road to the ultimate prize.
A different culture for Brady could mean having fun with new teammates and hanging out and fresh locker room laughs, per Barber, or more likely the opposite.
"Or it could be different culture, 'You guys are a bunch of cutups and don't know what the hell is going on and your attention to detail and professionalism is terrible. And there's no way we're going to win because you don't care enough.'" Barber explained.

Immediate frustration from Brady could come via the state of a new locker room, he added.

"Could he fix that? Yeah, of course he could fix it," Barber said. "It's going to take a year. That's my point. Your 44. So what goes on then?"
For Joe, the Brady option in 2020 is exciting, fun and welcome. However, it only makes a lick of sense if the Bucs draft a legit starting quarterback prospect this year.
Father Time always wins, and Team Glazer would be stone cold morons to pass on having a stable of top quarterback coaches — and Brady —  mold a talented young QB.