Your Questions For Jason Licht And Bruce Arians
February 23rd, 2020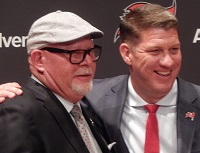 There's no greater political spin that what comes out of the mouths of NFL general managers and head coaches from the end of the season until after the NFL Draft.
Need evidence?
Just look at some of what Bucco Bruce Arians said about Ryan Fitzpatrick and DeSean Jackson last year. Joe could fire off many more examples, but you get the point.
On Tuesday at the NFL Scouting Combine, Arians and Licht will field questions from media and Joe will get one heck of a smile out of any answer that represents the Bucs saying they're still evaluating Jameis Winston. Yeah, and Joe is still undecided on the taste of beef.
Regardless, Joe will be there and involved in the questioning periods of these high-ranking Bucs leaders.
The comments section in this post represents a chance for Bucs fans to ask their questions of the Tampa Bay brass. Type them up and Joe will review them. Maybe Joe will like the phrasing of a question and use it verbatim.
Arians and Licht aren't the type to embrace fan questions in a public forum on any kind of regular basis. (Are they that fearful?) Hopefully, that will change next season.