Shaq Barrett: I Don't Want The Franchise Tag; "Tune In Next Year"
February 23rd, 2020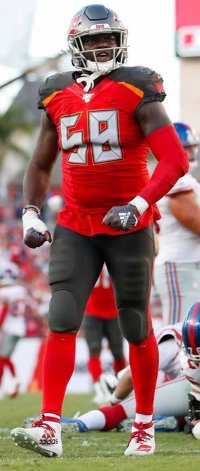 The Bucs won't have a happy pass rusher on their hands if they slap the franchise tag on Shaq Barrett coming off a 19 1/2-sack season.
The tag, which the Bucs could offer linebacker Shaq beginning on Thursday, would represent a salary for him of about $17 million in 2020. But Shaq wants no part of that, he told CBS Sports Radio.
The transition tag "is cool," however, Shaq said, because it would allow him to test the market and give the Bucs a chance to match any offer. And Shaq reiterated what that he definitely wants to stay in Tampa.
Shaq also was asked to respond to those who say he's a one-year wonder.
"Tune in next year. I don't know if it's 19 1/2 [sacks] but it's going to be a better overall season," Shaq said, emphasizing that he'll be better in "the run game, pass game [and in] pass coverage."
Full disclosure: Shaq's comments came during Super Bowl week in an interview Joe finally just got to. Joe heard many other Shaq interviews and this is the first time Joe heard Shaq address the franchise tag.
As for Jameis Winston, America's Quarterback, Shaq offered his typical assessment of the five-year veteran during this chat, noting he believes in Jameis and is impressed by his attitude and desire.
"He threw us out of a lot of games," Shaq said, but Jameis "kept us in games" and certainly will address his weaknesses.
At the close of the interview, Shaq laughed and said, "Show me the money."