The Peyton Barber Question
February 20th, 2020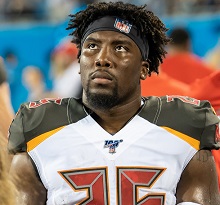 He's durable. He scores touchdowns. He tries really, really hard. He's overachieved as an undrafted player.
Running back Peyton Barber would be a folk hero in Tampa if he played like the next Earnest Graham, but Barber never quite got there.
Barber took a big step backwards last season averaging just 3.1 yards per a carry. When you conjured up memories of Doug Martin 2016 and 2017, you know things didn't go well.
In 2019, Barber couldn't beat out Dare Ogunbowale as the Bucs' third-down back. And as a punishing early-downs rusher, he just didn't cut it. Barber scored seven touchdowns, which is impressive, but the overall body of work was disappointing.
At 26 years old, Barber is about to hit free agency and the Bucs have a decision to make. Once upon a time, Barber was a pretty good special teams player, and he's not a bad option as a veteran to compete for a third or fourth running back slot.
Joe would love to see new blood — a lot of it — in the Bucs' running backs stable. But how would you handle Barber?