Ronald Jones Says He Has Just One Season Goal
February 8th, 2020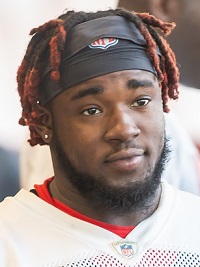 Bucs running back Ronald Jones taught fans a lot about him last week.
Yes, he wants to play with Tom Brady. He also is inspired daily by Mike Evans and Chris Godwin.
And Jones wants a full workload in 2020, as he gets his playing weight up to a target of 225 pounds.
It seems just 80 carries over the final 8 games didn't sit well with RoJoe. Joe didn't like it either.
Also during his chat on SiriusXM radio, Jones was asked what his personal goals are for a season. He was clear that outside of winning, it's a singular goal: gaining 1,000 yards.
Jones turns 23 in August and, in theory, 2020 should be a breakout season for him. He acknowledges being a somewhat lost and unmotivated rookie under Dirk Koetter in 2018. Call it immaturity. And RoJo said he got his act together mentally and physically last season while still adjusting to a new scheme.
He finished 2019 strong and he's primed (again, in theory) for those 1,000 yards in 2020. But Joe simply cannot rely on hoping RoJo makes a leap.
It's irresponsible and illogical to count on the guy. The Bucs should find true competition by adding a legit running back in free agency and one in the draft.
There is no crime in having three good running backs on the roster. And if Dare Ogunbowale is so darn good, then the Bucs should trade him for a draft pick.
Anyone think the Bucs would find a taker?
---
ATTENTION GAMBLERS!!! A new WHAT ARE THE ODDS? episode is back from The Identity Tampa Bay. Enjoy!