JPP & The Falcons
February 12th, 2020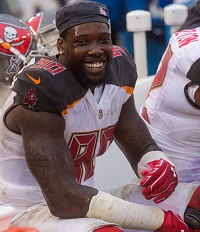 Raise your hand if you don't think Jason Pierre-Paul will have several options in free agency?
The man seems to have super powers when it comes to injury recovery, but more important, he has 21 sacks in his last 26 games for the Buccaneers.
Pass rushers get paid. Established pass rushers get paid more.
The Bucs like JPP, but they also know JPP gambled on himself last season, agreeing to void his fat 2020 contract and play for incentives last year. He won the gamble and will — and should — now expect to be paid like a No. 1 pass rusher. Yeah, JPP just turned 31, but he is a freakish athlete.
From age 31 through age 35, former Dolphins edge rusher Cameron Wake racked up 49 sacks and three Pro Bowl trips in those five years. Anyone thinks JPP is capable of that?
Joe is confident at least a couple of NFL teams will take that bet if given the chance next month when the free agency dinner bell rings.
Longtime BSPN NFL analyst and numbers cruncher Bill Barnwell suggests the sacks-challenged Falcons are hunting an established pass rusher. Anyone who has watched the Falcons knows they're desperate.
3. Find a No. 1 pass-rusher. The Falcons have to be considered candidates for each of the top available edge rushers, though they're going to need to get creative to compete for Jadeveon Clowney. This could be a landing spot for Dante Fowler Jr. or short-term options like Robert Quinn or Jason Pierre-Paul.

Atlanta's late-season surge means it will be picking 16th in April's draft. The Falcons could move down and add extra picks, but it wouldn't be the worst idea if they ended up using their pick on an edge defender, too.
Joe thinks the Falcon's fiery new defensive coordinator, Raheem Morris, would love to get his hands on JPP, along with head coach Dan Quinn who values speed on defense.