Bucs Officially Suggest A Uniform Change Is Coming
February 12th, 2020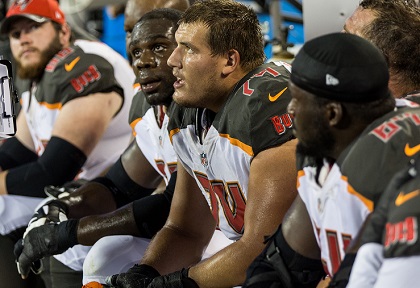 Yes, the Buccaneers' uniforms make them a laughing stock more than the kind Greg Schiano referred to years ago.
They're bad and, rather than admit it and pay whatever it took to change it quickly, the Bucs have been promoting these crimes against innocent fans since 2014.
Joe remembers the day the current uniforms were revealed. Joe panned them on these pages, which prompted a frustrated phone call from someone high up on the food chain at One Buc Palace. It was rather ballsy from the dude. Joe simply asked the guy, "Are you asking Joe to pretend to like the uniforms?"
The response was a plea to give the uniforms a chance.
And here we are.
Today, the Bucs sent out a cryptic video that multiple times highlights newspaper headlines (old and recent) about new uniforms. You can watch it below.
Good luck, Bucs!
Joe suspects if new uniforms are coming, they are already ready to roll. And if a new team slogan is being worked on, Joe certainly hopes the Bucs marketing department, whose effectiveness rivals the team's rushing attack, seeks real-world feedback to see if the slogan(s) connects with fans. Joe would be happy to gather volunteers to participate in a focus group.
— Tampa Bay Buccaneers (@Buccaneers) February 12, 2020