The Bucs And Le'Veon Bell
February 12th, 2020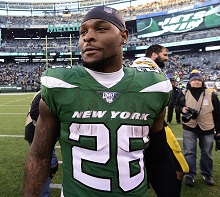 Who would you rather have catching passes out of the backfield on third down next season for the Bucs, Dare Ogunbowale or Le'Veon Bell?
Or perhaps the better question is who would Bucco Bruce Arians prefer? That's a tougher question.
The Jets want to unload Bell after his bizarre signing last year, highlighted by a massive contract and his head coach not wanting to sign him. He turns 28 next week.
Bell handled a huge workload for a messy Jets team that literally had no viable quarterback for three of the 15 games in which Bell appeared. He finished the season with 66 catches and 245 carries with subpar numbers certainly far below his former All-Pro self.
A New York Daily News report noted Bell's 1,946 career touches nearly double that of struggling Cardinals veteran running back David Johnson's 28-year-old body. Johnson is a guy Joe expects the Bucs are interested in.
Bell is due a fortune next season and the newspaper speculated Tampa could be a destination with the Jets agreeing to pay a hearty chunk of Bell's salary.
This is where the quality of your pro personnel department comes in. Those are the guys, along with coaches, who need to figure you if Bell was healthy but misused and unwanted, or whether he's headed toward Doug Martin country. The Bucs, of course, stuck with 28-year-old Martin when he was washed up (less productive than Bell last year) and battling a drug problem.