Godwin Says Bucs "Are Right There," Glad He's Not Making Jameis Decision
February 1st, 2020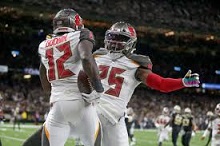 Bucs Pro Bowl wide receiver Chris Godwin is fired up for the 2020 NFL season, but he's not sure who will be throwing him footballs.
Godwin was talking at the Super Bowl this week and acknowledged he's been part of internal team discussions about America's Quarterback, Jameis Winston.
"We love Jameis. That's our guy," Godwin told WTSP-TV Ch. 10. Though strangely after saying that, Godwin added, "I'm glad it's not my decision" when it comes to making the call on the Bucs future of Jameis.
Regardless, Godwin believes the Bucs are just a handful of plays from playing January football.
"We can feel that during the season. We can fell all of that. We're right there," Godwin said. "And we recognize the mistakes we made early in the season that came back to haunt us towards the end. The goal is to go in and learn from the mistakes so next season we come out of the gates and start firing on all cylinders."
Is Godwin talking about fast start for the Bucs? What is that like? Not since 2008 have the Bucs been better than .500 at the midpoint of a season.