Cam Newton: Buccaneers Might Be "A Mentality Away"
February 1st, 2020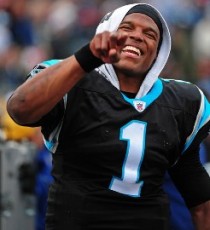 It's not every day that a rival quarterback serves up a candid take on the Buccaneers that includes a quality backhanded slap to the face.
As regular readers here know, Joe is an NFL junkie. No offseason. February means Joe will catch up on NFL games not watched in 2019, look deeper at Bucs film, and listen to interviews around the NFL.
Joe grilled salmon this morning and settled in to listen to various interviews from this week at the Super Bowl. And wow, did Joe find a gem.
Cam Newton sat down with CBS Sports Radio and did not like when the host told him he thought the NFC North is better overall than the NFC South. Newton was adamant that the NFC South is the best division in football, and he put his foot down.
Unfortunately, Newton's explanation included a slap at the Bucs.
"I'm not here to debate another team," Newton said. "I couldn't care less either way. But at the end of the day, we know in that division that we play, there's no such thing as a walk in the park. Even playing the Bucs for so long, those guys are a player or a mentality away. Straight up, you know. Jameis has grown; we know who he is, as well as Matt Ryan, and you know what you're going to get out of Drew Brees and playing at the Superdome."
Hmmm, so Cam Newton watches the Bucs and sees a weak mentality compared to the rest of the division, and probably the league.
Joe would remind Newton that the Panthers lost 11 games this season after imploding in the second half of 2018, but that's not really the point here.
Is Newton right? Is the Bucs mentality weak? Did he see that in 2019 under Bruce Arians.
For those wondering, Newton said he "absolutely" expects to be back with the Panthers next season after great meetings with the Panthers ownership and new head coach. Hopefully, the Bucs can show Newton that he's wrong about their mentality.