Danger!
February 26th, 2020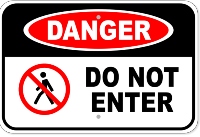 The Bucs better be careful or they may get what they wish for, and the result may just mean updating people's resumes.
Before Joe gets rolling here, remember that the Glazer family has only allowed one coach to survive consecutive losing seasons.
That is the same coach who won the family a Super Bowl. And that same coach was eventually run after back-to-back nine-win seasons.
So with both Bucs coach Bucco Bruce Arians and AC/DC-loving general manager Jason Licht openly desiring a new quarterback while at the combine yesterday in the Indiana Convention Center (nee: Hoosier Dome) in downtown Indianapolis, the Bucs run the risk of alienating Mr. Entertainment, America's Quarterback, Pro Bowler Jameis Winston, the best quarterback in franchise history, before they have even replaced him.
Joe heard so much talk of "Door No. 2" from Arians and Licht yesterday, Joe thought it was a game show studio.
At one point, Joe asked Licht if he is concerned all this talk about looking for a better option at quarterback runs the risk of p!ssing off Jameis and he and/or his agent just may say, "Go ahead and work with the guy behind Door No. 2, we'll take ourselves to a team that wants us."
Licht brushed this notion off saying he has a good relationship with Jameis' agent and talks to him often.
That doesn't mean all this talk of replacing Jameis doesn't enrage Jameis. He could his agent to break off talks with the Bucs. After all, the agent is employed by Jameis, not the other way around.
Are the Bucs really better off with over-the-hill Philip Rivers, who is little more than an old, immobile Jameis?
Can Tom Brady play in Arians' offense as well as Jameis? Can a rookie quarterback lead the Bucs to the playoffs?
If the Bucs aren't careful and don't pull back on their public drooling on other quarterbacks they don't (yet) have under contract, they just may paint themselves into a corner and wind up with Blaine Gabbert as their starting quarterback.
The way Arians and Licht were slobbering over Brady and Rivers yesterday, it was like some dude taking his steady squeeze to a trendy sushi joint, where the guy constantly scopes other chicks while playing with his chopsticks. He just might wind up with a cold beer thrown in his face if he isn't careful.
As always, careful what you wish for.