Dangerous Maybes
February 26th, 2020
BY IRA KAUFMAN
Because he left the front door wide open, Jameis Winston may soon be looking for the exit.
There's no other way to read the tenuous situation Winston finds himself in after five erratic pro seasons. The Bucs want him back … maybe.
That was the cryptic message delivered by Bruce Arians and Jason Licht Tuesday at the NFL combine in Indianapolis, where Winston's future was left twisting in a brisk Midwestern wind.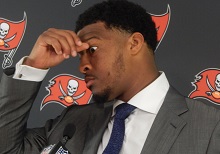 At least a half-dozen times, Arians and Licht had an opportunity to declare their support for the first overall pick in the 2015 draft. Six times, they punted.
Arians referenced Door No. 2 so often, I thought he was auditioning as host for a new version of "Let's Make a Deal."
He wants Winston back … maybe.
There was no talk from Arians about Door No. 2 during a 4-game winning streak that lifted Tampa Bay even at 7-7, with two home games remaining.
Winston was on a roll in that glorious month, hitting 68 percent of his pass attempts while the Bucs averaged 35 points. No one knew it at the time, but the reckoning was dead ahead.
In narrow losses to Houston and Atlanta, the Bucs averaged 21 points.
Winston tossed six interceptions and completed only 53 percent of his throws.
Buc fans from Bradenton to Bartow were crushed. More importantly, Arians was stunned that the turnover machine under center had returned.
"I just like working with winners," Arians said at one point Tuesday.

"That's the biggest thing."

A few minutes later, Arians acknowledged that "December wasn't what I was hoping to see."
He wasn't lamenting his Christmas haul, either. He was talking about a pair of games Winston gift-wrapped for the opposition.
Dangerous Game
On and off the podium, Licht talked for almost 30 minutes Tuesday. I'm still waiting for him to make a point. He fudged, he dodged, he declined to answer.
He sounded like a man who'd rather be getting a root canal.
While Licht was a reluctant speaker, Arians seemed to be in full throttle. He can't wait to see which veteran quarterbacks might be available in a few weeks.
If the right guy springs loose, expect Winston to be available for 31 other teams in free agency.
This tepid public support for Winston could simply be a ploy by Bucs management, hoping to bring him back at a reduced salary. But that's a dangerous game because Winston is now fully aware his coach's confidence in him is waning.
There have been too many tumultuous stretches in franchise history to count, but the next few weeks are shaping up as a roller coaster for Buc fans longing for stability.
Can the Bucs retain their defensive leaders? Will Winston receive the franchise tag? Is Tom Brady truly in play?
Here's a few observations from Tuesday's chatter:
* Wish Breshad Perriman luck, he's moving on.
* Arians has no interest in drafting a quarterback in the first round.
* Chris Godwin is likely to receive his contract extension before training camp.
* Winston really messed up in those final two games.
Yes, it always seems to come back to No. 3, the most polarizing player in Buc history. It's easy to see why: lots of yards, not enough wins.
"Jameis has a problem seeing the scoreboard sometimes," Arians said.
For the past five years, he hasn't missed much.