Clyde Christensen: Jameis Coached To Lead
February 28th, 2020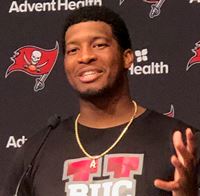 Just worry about playing football; that's not what America's Quarterback, Jameis Winston, was told last season.
Buccaneers quarterback coach Clyde Christensen was hanging out by Joe's table at Radio Row this week at the NFL Scouting Combine and talking about, what else, quarterback play.
The veteran coach explained that a franchise QB needs to be the driving force of the organization. From players to sales people and the receptionist at team headquarters feed off the quarterback.
"And that's one of the things we stress with our quarterback, 'December, hey, everyone's hitting the wall. It's been a long [season]. You have to walk in the building and bring juice,'" Christensen said. "Because the whole city feeds off you. That's part of the job."
Interesting to hear how that's been drilled into Jameis by the Bucco Bruce Arians regime.
Was Jameis good at that role? Joe isn't sure, though Christensen told Joe that Jameis is the ultimate student: humble and hard-working with an energetic, yes-sir attitude at all times.