Carl Nassib … Back To The Browns?
February 16th, 2020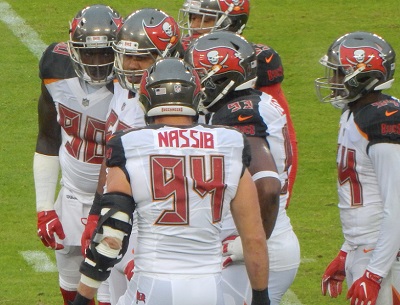 Yes, general manager Jason Licht struck gold when he pounced on 2019 Bucs team captain Carl Nassib after the Browns cut the DE/LB following the 2018 preseason.
Nassib, however, will be an unrestricted free agent in a month and the Bucs might be wishing they had locked him up on the cheap before the 2019 season.
The former Browns third-round pick is no superstar, but Nassib has two seasons of quality and consistent work in Tampa under his belt. He'd be a No. 2 or No. 3 edge rusher on a lot of teams around the NFL.
Allegedly, the Bucs want to keep their whole defense together, but reality says that won't happen.
Time management will be crucial for Licht to manage with Arians. Do you give Jason Pierre-Paul a hard deadline of, say, two days before the free agency dinner bell rings to sign a deal, so the team can re-sign Nassib before both hit the market?
Browns beat writer Terry Pluto of Cleveland.com dove into the Browns' desire to upgrade their defensive line, especially considering Olivier Vernon has proven to be injury prone.
Pluto likes the looks of a Nassib return.
A possible free agent for the Browns at defensive end? How about Carl Nassib? Yes, the same Carl Nassib who was a third-round Browns pick in 2016. The same Carl Nassib cut by Dorsey at the start of the 2018 season. And the same Carl Nassib who has 12.5 sacks in the last two seasons playing 50 percent of the snaps for the Tampa Bay Buccaneers.

Nassib was a victim of Dorsey's purge. He would have helped the Browns the last two years and done it on a cheap rookie contract. I hope Berry doesn't fall into the same trap of quickly dumping the previous regime's draft picks without giving them serious consideration.
What's it going to take to sign Nassib? Probably in the neighborhood of $7.5 million per year with a couple of years guaranteed. Heck, in 2017, Will Gholston locked down about $14 million guaranteed, and he couldn't rush the passer!
Licht might end up deciding between paying Nassib and Suh, or just Jason Pierre Paul. Joe writes that assuming the Bucs want to add a significant piece to their defensive backfield in free agency.