"We're All Going To Be Deadly"
January 7th, 2020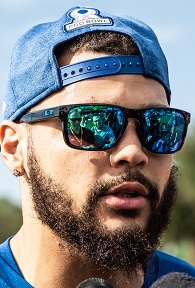 As the Buccaneers' brass considers a quarterback change, or pretends to, one piece of the puzzle is the wide receivers corps.
Mike Evans and Chris Godwin are true NFL superstars. How might they perform with a different quarterback? But a better question might be how would Evans and Godwin perform without America's Quarterback, Jameis Winston.
On Buccaneers Radio, Evans recently was asked about his connection with Jameis and what he sees from the quarterback's work.
Evans sounded like a guy with a firm belief in the guy throwing him the football.
"Oh, man, I mean, [Jameis and I] have been doing this for a while now," Evans said. "We obviously could have had a better season if I was able to finish it off. I feel like our connection is growing each year. And he developed a relationship with [Chris Godwin] now, and a connection with C.G. that we're all going to be deadly now. We're all going to be deadly. We need to be a little more consistent, especially me. And we can do that, tune some things up in the offseason and we'll be fine."
A "deadly" Bucs passing attack. That sounds like a lot of fun. In Evans' mind, that's with Jameis.
Joe finds it interesting that it's been awfully quiet from various Bucs on social media regarding the subject of Jameis. Loads of Bucs surely see their QB getting skewered on various fronts. Joe would think the Jameis camp might even ask guys like Evans or Lavonte David to come out publicly on social media in support of their QB.
It'll be interesting to see if Evans and others take to a bigger platform than Buccaneers Radio to sing the praises of Jameis in the coming days.