Discipline & Rookies
January 7th, 2020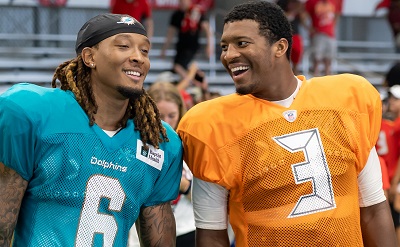 An interesting stat out there involves the five-win, officially tanked Dolphins and the seven-win Bucs, a team that tried to win at all costs.
The Bucs led the NFL in penalties with 133. It was a stunning display of poor discipline.
Perhaps the Bucs didn't have enough coaches? Or maybe they need to hire a team consultant devoted to officiating?
(Sarcasm, folks.)
The Dolphins managed to have only 92 penalties the fourth-fewest in the NFL. Yes, the Miami organization collectively decided to tank the season, but only when it came to personnel. First-year head coach Brian Flores took on the season with a bunch of rookies and a lot of second-rate talent that gave everything they had.
Per ESPN, the Dolphins led the NFL with 6,551 snaps taken by rookies. The Bucs had 4,077 snaps from rookies. That's about 55 percent more rookie snaps on the Dolphins yet the Bucs had 45 percent more penalties.
Let those numbers sink in.
Low penalty totals don't equal wins, but the Bucs were ridiculously sloppy this season, and it's pure spin to blame it all on youth.
Bucco Bruce Arians promised fans the team will stop beating itself in 2020. Part of that will be shaving off at least two penalties per game. And with the way Arians has expressed so much love for his roster, minus Jameis, achieving that probably will require a change in approach from the head coach.