"Telling Us How To Think"
January 8th, 2020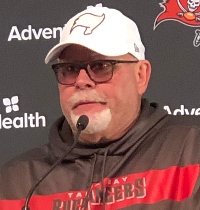 One fast way to change a bad football culture is to have a good coach get in players' heads to overhaul loser mentalities.
Hopefully, that's what's happening at One Buc Palace. But that's up for debate after the Bucs limped into the offseason with two home losses, including a 12-penalty, three-turnover performance in the season finale against Atlanta, in which the Bucs offense struggled mightily on third down and the Falcons dominated time of possession.
Safety Andrew Adams (11 starts) said late in the season that the Bucs' collective head definitely was in the right place.
"Coach Arians does, you know, a great job kind of going over our mindset, telling us how to think," Adams told Buccaneers Radio. "And as a pro, you're going to do your job anyway, playoffs or no playoffs. I think everybody is in that professional mindset and ready to play."
Adams elaborated to say Arians would never talk about anything other than each game being the very biggest to that point in the season.
Joe found it interesting how Adams noted Arians tells players how to think. Every coach has a different version of doing that, but it seems Arians is more direct and detailed than most, Joe has learned.
Whatever mentality Arians has developed will be put to the test quickly next season. The Bucs can't afford another slow start, and there's no reason for it.
Adams added there is so much complexity and required communication for defensive backs within Todd Bowles' defense, that it "took time to gel."