Standing Firm
January 9th, 2020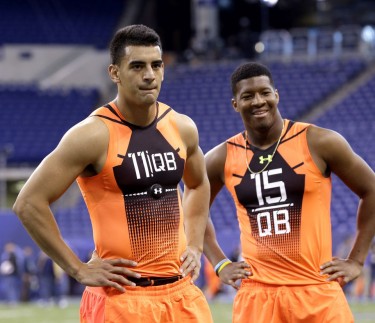 Joe loves NFL fans. They're filled with deep passion and strong opinions, and they make the game fun year-round.
And fans love to stand firm on players they love or hate, no matter what happens on the field.
Joe brings this up because of the stunning revelation by Titans beat writer Turron Davenport on WDAE radio.
In October, the Titans sent starting QB Marcus Mariota to the bench in favor of Ryan Tannehill. And chatting about that switch this week, Davenport said despite the Titans going 8-3 with Tannehill leading the way (including a playoff win), there are loads of Tennessee fans who disapprove of the move.
"There is a large group of [Titans] fans that still want Mariota to be the quarterback," Davenport said. "He just has a way of connecting to people. You know, he's a very nice guy. Listen, he showed spurts of special talent but the problem is spurts don't win you games week-in and week-out. They'll win you a game once in a while."
Think about that. In comes experienced Tannehill, who literally lit up the Titans offense off the bench and transformed it, and legions of Titans fans still want bland Mariota.
Hearing that made Joe think about the Jameis lovers and haters. The lovers would have been pissed if Fitzmagic thrived as a starter and lasted, and the haters would want Jameis gone no matter what he accomplished on the field.
Some people just cannot be shaken.
It also lets Joe there would be all out chaos in Tampa Bay fandom if the Bucs, say, brought back Jameis for 2020 and drafted a quarterback in Round 3. If that rookie completed a few good passes in preseason, an absolute civil war might break out among Bucs fans.