One Legit Reason Bruce Arians Likes His Running Game
January 9th, 2020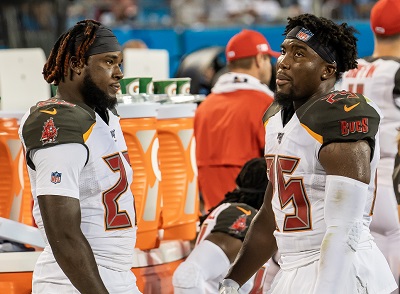 Yes, the Bucs rushing attack is weak and has been for the past four years.
But there is one tangible improvement that is part of why Bucco Bruce Arians lauds the running game as if nothing is wrong.
The Buccaneers pounded in 15 rushing touchdowns this season.
They hadn't accomplished since 2007, the last playoff season!
The last time the Bucs actually eclipsed 15 rushing touchdowns in a season was under Father Dungy, 17 in 2001.
(Here's a fun fact: the Bucs had just 6 rushing touchdowns during the 2002 regular season. That ranked 31st in the NFL during that Super Bowl campaign.).
Under Dirk Koetter, the Bucs had 11 rushing TDs in 2018, but just 8 in 2016 and in 2017. The humming 2012 Bucs offense had 13 rushing TDs, fueled by Doug Martins' Pro Bowl season.
Rushing success in the red zone is critical, and overall the Bucs weren't very good at it this season, but they significantly improved, and it's a factor in Arians' optimism.
In Arizona, Arians had some good teams when it came to rushing touchdowns and some bad. David Johnson pounded in 16 all by himself during the 2017 season.