Pressure Picks & Time-To-Throw Picks
January 23rd, 2020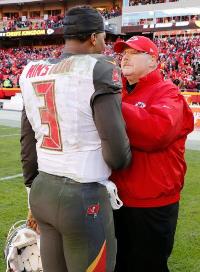 The dissection of Jameis Winston's 30 interceptions this season continues.
One thing remains certain, however you carve them up, America's Quarterback racked up a shameful total worthy of scorn, disbelief and distrust.
NFL.com data analyst Cynthia Frelund, who has access to all the Next Gen Stats regular fans can't access, did a deep dive study of the most underperforming position groups around the league this season. She used intricate formulas combined with Next Gen data derived from sensors in equipment, not subjective nonsense from the Pro Football Focus.
Frelund determined Philip Rivers was the low achiever QB of the league. But her summary showed how Rivers was second to Jameis in a couple of areas.
According to Next Gen Stats, when under pressure, Philip Rivers threw just four touchdown passes against 10 interceptions. Only Jameis Winston had more pressure picks with 11. How about on passes with 2.5 seconds or more to throw, to help approximate a lower-pressure situation? Rivers threw 10 touchdown passes against 15 interceptions — again, second-worst to Winston (17). And of Rivers' 15 picks on those slower-developing plays, nine of them came when his receiver had at least 3 feet of separation at time of release.
So let Joe get this straight, Jameis threw 19 of his 30 interceptions when he was not under pressure. Nineteen!  Rivers threw 10 of his 20 when not under pressure.
Joe won't compare the two when having more time to throw because that's a bad comparison considering Rivers is immobile.
Regardless, the Bucs must find a way to cut Jameis' picks to a level of respectability. He's got a decent offensive line and excellent targets.