Mike Evans Talks About Changed 2020 Approach
January 23rd, 2020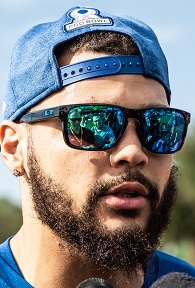 Mike Evans blew his hamstring when he caught an early touchdown pass against the Colts on Dec. 8.
As a result, he's got a different approach this winter.
Evans explained on the Buccaneers Radio Network before he bolted for vacation following Jameis Winston's pick-6 to end the season.
"I'm excited for next year. I'm going to work extremely hard. Usually, I take a lot, a lot of time off and let my body heal but I'm kind of fresh right now other than my hammy being a little tweaked," Evans said.
After time with his newborn son and intense gorging, Evans said he'll hit his workouts and true training regimen early in February — earlier then usual.
"I always feel very fresh when I come into the season, but we're going to try something new this year. I'm going to hit it harder," Evans said. "I'm going to get on my diet plan a little bit earlier. I usually wait on my diet plan because I eat bad as hell. When I go to Texas, I eat Whataburger all day, pizza, wings, seafood, crawfish. I'm going crazy in Texas."

"… In the offseason, there's a time and a place for [that kind of eating}. … During the season, you know, i can't be putting all that bad stuff in. I've been doing pretty good at that. I've hired a chef the last two seasons and I've been the lightest I've been in my career.

"I've been able to run and last longer when I'm out there. You know, I can run a deep route, come back, and not be as gassed as I used to be. Playing at 240, 245 was tough earlier in my career. I couldn't get in and out of my breaks as fast as I can now. I'm quicker now at the line of scrimmage. I'm not as strong, but I'm still strong. So I like my body type right now. That was huge, getting a chef and watching what I eat."
Just more evidence of how professional Evans is. He's always looking for an edge.
Past offseasons for Evans have included workouts with Jameis in Texas. Will those continue if Jameis has no contract?