Bruce Arians Serves A Firm Message To Fans
December 29th, 2019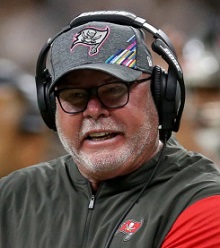 The Buccaneers' head coach was asked after today's groin-stomp loss to deliver a message to fans, and Bucco Bruce Arians did not hesitate with a reply.
"I promise you one thing, we will stop beating ourselves next season," Arians told the Buccaneers Radio Network.
That's quite a promise — because the Bucs are so good at beating themselves.
Matt Gay beat them badly in two home games. Jameis Winston also found a way to help other teams a little too much in at least a couple of games.
Pre-snap penalties were too common this season, as were penalties overall. The Bucs didn't always look well coached, though part of that was tied to Arians still plucking the weeds from the roster in his first season.
In the last two games, two running-back fumbles were killers, as the Bucs found various ways to bludgeon themselves through the season.
Joe will hold you to the promise, Coach. It's about time the Bucs started making other teams take them down.