Identity Crisis
January 20th, 2020
BY IRA KAUFMAN
When it comes to getting the dirty job done, the Bucs come up short.
A lot of factors have contributed to the NFC's longest playoff drought. There have been too many giveaways, not enough takeaways and an annual issue at kicker.
But when you really come down to it, this franchise lacks an identity.
When you don't have an elite quarterback, and Tampa Bay certainly does not, you'd better be known for physicality. You'd better be willing to mix it up in the trenches and emerge the victor.
The Chiefs and Packers aren't overly physical, but Patrick Mahomes and Aaron Rodgers tend to camouflage weaknesses up front. In contrast, the 49ers and Titans advanced to the conference title games by beating you up, then beating you down.
The 49ers, built in John Lynch's image, are the NFL's No. 1 example of a team you don't like to play against. Even if you manage to hang with San Francisco, you have the bruises to nurse the rest of the week.
The Bucs led the league in passing yards and rushing defense, but that 7-9 record suggests this is not a complete team. And until Tampa Bay addresses a dreary ground attack, this dog won't hunt.
Unless Jameis Winston morphs into Brett Favre, a dismal run game will continue to haunt this franchise. This is not a recent phenomenon, either. In the past seven seasons, only once (2015) has Tampa Bay's run game ranked better than 22nd.
Blame the offensive line, blame the backs, blame the scheme, blame the play-calling, blame the officials … whatever. At the end of the day, the Bucs have to do a far better job of imposing their will at the point of attack.
Mike Evans and Chris Godwin are the best wide receiver tandem in the NFL, but it's not enough. A robust ground game sets the tempo, eats up clock and keeps your defense fresh.
Just ask the Packers and Vikings, who just got manhandled by San Francisco's unheralded offensive line. The 49ers ran for 186 yards against Minnesota and topped that with 285 yards on the ground in the NFC championship game.
Jimmy Garoppolo attempted eight passes Sunday — eight. Who's counting? Ryan Tannehill kept handing the ball off to Derrick Henry as the Titans upset New England and Baltimore on the road.
Yes, Kansas City's run game is rather pedestrian, but they have Mahomes. Nobody else does. When you include the postseason, Mahomes has thrown 87 TD passes and only 18 picks in his first two years as a starter.
That's crazy good, and so is his 27-8 record.
The Bucs are proficient at picking up big chunks of yardage, but they're terrible at wearing you down. Listen to the NFL's most complete tight end, George Kittle, describe San Francisco's philosophy.
"It's my favorite part of football — moving a man from Point A to Point B," Kittle said after crushing Green Bay's spirit. "It's the greatest feeling you'll ever feel. Our coaches said before the game, 'We're going to run it until they stop it.' "
The Packers never did.
Taking Notice
The Bucs also tend to run it until they stop it, which usually means they stop running it early.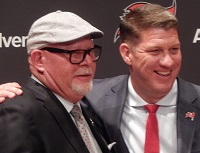 When Lynch and Kyle Shanahan formed the blueprint for the 49ers, they kept coming back to the same word: aggressive. When they started off 0-9 in 2017, they never wavered. Instead, they doubled down on physicality.
"They took it to us," Vikings receiver Adam Thielen said after Minnesota was mauled at Levi's Stadium. "They punched us in the mouth."
When's the last time a Tampa Bay team displayed overwhelming physical superiority? It's been awhile, my friends.
While scouring the free-agent market and the 2020 draft, the Buc brain trust needs to find guys who play with an edge on both sides of the ball. When Robert Saleh held his first press conference as defensive coordinator of the 49ers in 2017, he was asked what he looked for in a player. His answer was both brief and telling:
"Extreme physicality," he said.
Hopefully, the decision makers at One Buc Place have taken notice.
Finesse is fine. Nasty is better.
Ira Kaufman launched his professional NFL beat coverage in 1979, back when Earl Campbell was the toast of the league and Lee Roy Selmon was defensive player of the year. After a lifetime at The Tampa Tribune, "The Sage of Tampa Bay Sports" joined JoeBucsFan.com in July of 2016. His twice-weekly podcast and three columns per week appear here year-round and are presented by Bill Currie Ford. Tampa Bay's only Hall of Fame voter is a regular on SiriusXM Mad Dog Radio and a part of the FOX-13 Tailgate Sunday show, in addition to his other appearances.