A "Scheming" Issue?
January 20th, 2020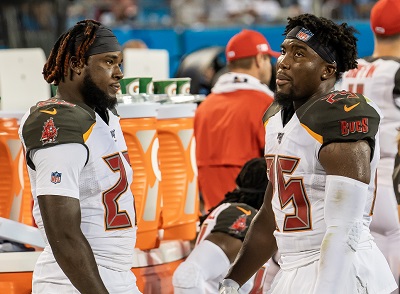 Yes, it was downright mesmerizing watching the 49ers channel 1970s football yesterday and win the NFC Championship game 37-20 while their quarterback attempted just eight passes.
Newly named Hall of Fame coach Jimmy Johnson raved during the game's halftime show about how 49ers coach Kyle Shanahan is the best in the NFL at scheming the running game.
San Francisco was second in rush attempts this season and second in rushing yards. The league knew what was coming and couldn't stop it. But the 49ers didn't have Derrick Henry pounding the rock. They evenly split carries between three backs, two of them undrafted.
Johnson's take got Joe thinking about the run game of the Buccaneers. Yeah, yeah, what run game? It feels like the Bucs are horrendous at "scheming" the run, to use Johnson's verb.
How could the Bucs' rush attack have been so dreadful when the passing attack is so potent?
That passing game should have opened things up for the run game, but Bucs running backs averaged just 3.59 yards per carry this season. That total was near the very bottom of the NFL, if not ranked last.
Was the problem more a scheming issue rather than personnel? Joe can't answer that, but it is clear the Bucs desperately need to upgrade their running back talent. And it's a safe bet Bucco Bruce Arians isn't look under every rock to try and upgrade the coaching staff responsible for that run game.