The Buccaneers And Jimmie Ward
January 20th, 2020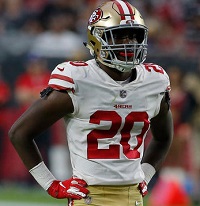 Bad foot, pulled quad, bad hamstring, two broken arms, and a load of missed games through five seasons, it makes you wonder how and why 49ers GM John Lynch gave safety Jimmie Ward a one-year, $4.5 million contract for the 2019 season.
A 2014 first-round pick, Ward somehow showed enough when healthy to earn a strong deal from a guy who didn't draft him.
Seemingly right on cue, Ward started this year by breaking his collar bone in May and a finger in the summer. But the investment paid off for the Niners; Ward stayed healthy after returning from finger surgery in Week 5.
"Jimmie's versatility," 49ers coordinator Robert Saleh said, via the Sacramento Bee. "I don't know if there's, I don't want to blur it, but there's not a lot of free safeties like him who is an exceptional cover guy along with the range he has in the middle of the field and his ability to do different things and the instinctiveness that he plays with, the physicality that he plays with."
Joe's interest, of course, is in Ward becoming an unrestricted free agent after he finishes the season in the Super Bowl.
The Bucs need an upgrade at safety, and maybe 28-year-old Ward is a guy worth a calculated gamble. All his teammates seem to rave about him, as do Niners fans.
And hey, Bucs general manager Jason Licht has rolled the dice on guys like T.J. Ward and Darian Stewart, and somehow he thought Chris Conte was worthy of a prominent role, so why not Ward?