Your Buccaneers' 2020 Opponents
December 29th, 2019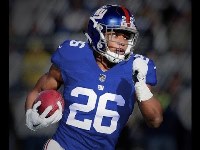 Tampa Bay's opponents for next season are set, but you'll have to wait another 3 1/2 months for the schedule.
However, the Bucs did get one big gift already.
By virtue of finishing third in the NFC South, the Bucs get to play the third-place teams in the NFC West and the NFC East. That's the Rams and the Giants, respectively. And that means massive exposure playing against huge-market clubs, which ups the odds of the Bucs getting on national television.
At home next year, the Bucs will face the Falcons, Saints, Panthers, Chiefs, Chargers, Packers, Vikings and Rams.
On the road, they'll head to Vegas, Denver, Chicago, Detroit, Atlanta, Carolina, New Orleans and to New Jersey to face the Giants.
It's a fun schedule. And hey, if the Bucs do really, really well, they'll have a chance to host the Super Bowl, which lands in Tampa in February 2021.