Howard Wraps Up Worst Season With No Targets
December 29th, 2019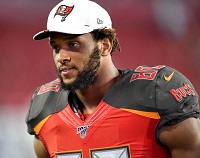 With the 19th pick in the 2017 NFL Draft, the Tampa Bay Buccaneers selected tight end O.J. Howard.
After three seasons, Howard appears to be a bust of a pick.
Sorry. Joe likes Howard and his bust status might change (especially with a new team) but there's something very wrong when a Bucs offense down Mike Evans and Chris Godwin can't find one ball to throw to an athletic tight end like Howard, who had no targets in today's season finale.
And it's not like Howard is too busy being a special blocker.
He's simply not delivering like a mid-first-round pick should. Who gets the greatest share of the blame doesn't matter more than the bottom line.
Howard ended this season with 34 catches for 459 yards and 1 touchdown in 13 games. Fellow tight end Cameron Brate caught 36 balls for 311 yards and 4 TDs in a full season of play.
Joe would have no issue with the Bucs starting over completely at tight end with ultra-physical young guys who have at least decent hands. And if that's a way to find the money to improve the running game in a hurry or keep Breshad Perriman, then so be it.