"You Learn A Lot More From Almost Losing Than You Do From Losing"
December 14th, 2019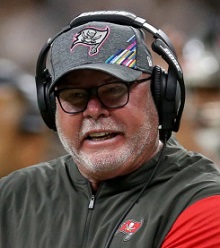 Bruce Arians has seen it all in football (which includes this wacky season), and he's got a solid one-liner for nearly every situation.
While coasting to a commanding victory is nice, like the Bucs did against the Falcons to start their current three-game winning streak, nearly blowing a game but still winning is more valuable, Arians said this week.
As Joe wrote after last Sunday's win, the Bucs squeaked out that "W" versus the colts after a garbage week of practice, according to Lavonte David and Devin White.
Arians referenced how he lectured the team before, during and after the Colts game about their poor practice leading up to it, including at halftime and on Victory Monday.
"You learn a lot more from almost losing than you do from losing," Arians said on the Buccaneers.com show that bears his name.
Joe's not sure about that, but it certainly sounds nice.
The Bucs have their share of almost losses this year (Arizona comes to mind) in addition to a healthy share of gut-punch losses. So by now the Bucs should be a very smart team that's learned many lessons.
No reason that wisdom shouldn't show up tomorrow in Detroit.