TV Map For Bucs-Lions
December 14th, 2019
Unless your local FOX affiliate broadcast signal originates out of one of two states, you may be out of luck Sunday.
Essentially, only FOX affiliates in Florida and Michigan will be broadcasting the Bucs-Lions game to be enjoyed free in the luxury of your home.
Everyone else, it's either NFL Sunday Ticket or off to your favorite watering hole.
Additionally, if you live in southern Georgia or northern Ohio, you are in luck as the signal bleeds over state lines.
Of course, Joe always recommends local fans take in the Bucs and the full slate of NFL action at Abe's Place in Clearwater. The menu rocks.
Fossil Dick Stockton will call the game. Mark Schlereth will offer color.
As always, the map is courtesy of 506sports.com.
FOX early broadcasts: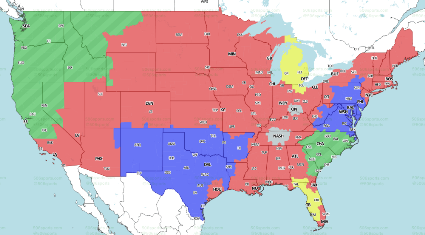 Yellow: Tampa Bay @ Detroit.
Red: Chicago @ Green Bay.
Blue: Philadelphia @ Washington.
Green: Seattle @ Carolina.
Silver: No game.