Bad Practice Week Turns Into A Win
December 8th, 2019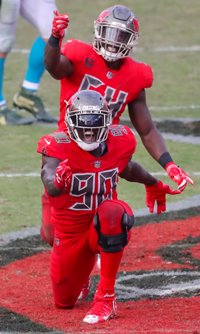 Intriguing buzz in the Bucs' postgame locker room after today's thrilling 38-35 win.
A couple of Bucs defensive pillars were adamant that the defense had a crappy week of practice and learned a lesson from it after a bad start while squeaking out a victory.
"We didn't have a good week in practice and it showed in the game," Lavonte David told Buccaneers Radio.

Devin White added, "We practiced bad and we overcame it."

Both agreed that the Bucs would have to do better and the defense was messy and littered with breakdowns early.
But White made the big late strip late on a drive that could have ended the game with a Colts win. And Shaq Barrett had what might have been a game-saving tackle at the close of the half to prevent a touchdown and force Indianapolis into a last-second field goal.
The pass rush didn't get the job done and the secondary gave an October flashback performance, but it was a enough for a win against a decent team fighting for its playoff life.
Joe loves the taste of victory.