When Good Feels Great
December 29th, 2019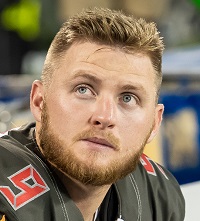 Rookie Matt Gay has proven through 15 games to be a talented, middle-of-the-pack NFL kicker.
Damn, that feels fantastic.
What a foreign vibe for Bucs fans!
Entering today's game, Gay, among full-time kickers, ranks 13th in field goal percentage, converting 84 percent of his tries. Gay has been poor at extra points, missing five and having two blocked. But the Bucs have the most extra-point attempts in the NFC, so that's not as horrible as it appears.
Gay might be No. 1 on Joe's list of players who Joe hopes has a great game in the meaningless season finale against the Falcons.
Kicking is mental, and Gay certainly doesn't need to close out his up-and-down rookie year with a train-wreck game.
The whole build-momentum thing is overrated when it comes to a Week 17 game for a losing team, but for a rookie kicker, Joe thinks it's important.