Bruce Arians Says He'll Help Make Sure Shaq Barrett Gets The Team Sacks Record
December 29th, 2019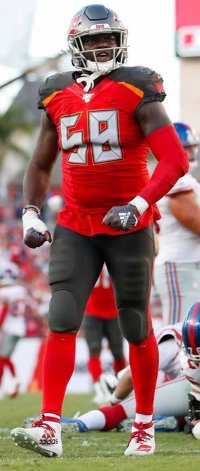 Kudos to Bucco Bruce Arians for sharing his attitude toward helping Shaq Barrett secure the Bucs' single-season sacks record today against the Falcons.
Not every head coach would be so candid.
Don't expect to see Shaq Barrett drop much in coverage against Atlanta, Arians told Buccaneers Radio, and the Bucs will look to blitz Shaq more to help him get the record.
"You know, I want to see him get [the record]. He's earned it," Arians said.
Currently, Shaq sits at 16.5 sacks, tied with Warren Sapp for the team record in a season.
Sapp's 2000 Bucs had 55 sacks that year, second-most in the NFL. Sapp was complemented by defensive end Marcus Jones (13 sacks) and Booger McFarland (6.5 sacks).
The current Bucs have 41 sacks through 15 games, 12th-best in the league.