"There's Not Going To Be A Decision Made For A While"
December 30th, 2019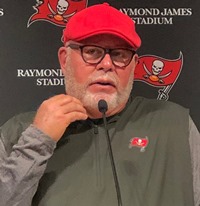 Bucco Bruce Arians opened his season-ending news conference today with a message for media: save your breath.
Your Jameis breath.
Arians told media that a decision on the future of Jameis Winston will be discussed at One Buc Palace and "there's not going be a decision made for a while," Arians said, adding that any questions about Jameis would be "moot."
Arians said he expects a decision will be made on Jameis in a few weeks but that doesn't mean the Bucs will reveal it. Arians said the Bucs showing their hand when they know means "you lose your leverage" when it comes to contract negotiation.
The head coach said he will meet with players individual today and tomorrow.
Man, Joe would love to be a fly on the wall in that Arians-Jameis chat.