The Ditch Dotson Line
December 18th, 2019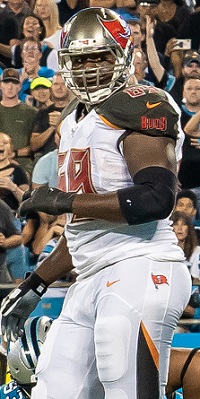 Joe hears over and over from fans and media that the Bucs should replace right tackle Demar Dotson.
Why? Because he's old? Because the Bucs want to do something goofy and draft a right tackle in the first round?
First, Bucco Bruce Arians and Byron Leftwich know Dotson can pass block very well. He's proven it.
And in case anyone missed it, the Bucs are a humming passing offense. Remember the one game Dotson missed this season? See the seven-sack England debacle.
Second, consider how Arians said before the season that Dotson isn't much of a run blocker. It was a classic exchange between Joe and the head coach.
JoeBucsFan.com: What did you see from Demar Dotson on film, studying him and making the call to bring him back?

Bruce Arians: I mean he can still pass block. I mean, to me, that's where you start. Can he get better in the running game? Yeah. But, you know, sometimes you're asking a guy [and] he just physically can't do something. I've had a couple of tackles that were really good pass blockers that couldn't cut off to the left. Don't ask him to. It's no secret. We'll run some plays just one way. Alright. It's the only [play] in the game and we're going to run it right. They know it. We know it. Stop it. You know, but don't ask him to do a bunch of that. You still have to do some of it. But don't ask him to do a bunch of it because he's going to lose. But he can still block.
There's a reason Arians did nothing significant at offensive line in free agency or the draft last offseason.  He wanted the continuity and thought he could work what he had. Meanwhile, the Bucs are a high-octane offense.
Dotson missed one game last season and one this season. He's durable and the pending free agent pulled in $4.8 million for 2019. Joe suspects he'd come cheaper in 2020, as most 34-year-old veterans do.
Arians talked on the Buccaneers Radio Network this week about the special durability of the current line, and he's spoken of how he's a believer in O-line chemistry as a philosophy.
The Bucs won't be able to pay everyone, but Dotson has real value in a league hurting for quality offensive linemen.
Joe's all in favor of the Bucs drafting a right tackle, but the urgency to replace Dotson immediately is misplaced, as was the August O-line freakout by legions of fans.
Draft a tackle later and let them compete.
---
TAMPA TWO!! Buccaneers legend Derrick Brooks and victory-sweater-wearing JoeBucsFan.com columnist Ira Kaufman review the Bucs win in Detroit, including the defense playing through mistakes. And Brooks shares his thoughts on the absent Bucs' running game, and more. TAMPA TWO is presented by Caldeo Air Conditioning & Heating. Another great production from The Identity Tampa Bay and Joe.