Enough Crying About The Offensive Line
August 28th, 2019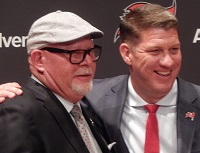 Matt Ryan, behind his fortified offensive line, was pummeled by the Jets. There's mass panic in Tennessee about their O-line.
The Cowboys' line is all over the injury report. The Browns' front-5 was brutal against the Bucs. The Seahawks offensive line is in shambles with ineffectiveness and injuries, including veteran guard Mike Iupati, a guy many Bucs fans wanted to sign this offseason.
Joe, along with many former coaches and players in media, has been talking about the offensive line crisis in the NFL for years.
Did Bucs fans really think there wouldn't be a few issues in Tampa?
Moan all you want about general manager Jason Licht not getting his money's worth on the Bucs offensive line. He's got four starters earning nearly $40 million this season and they were awful in Friday's first half. It's a fair criticism. But put the cost aside and really think about whether the O-line is really that bad when compared to its counterparts around the NFL. That's the most important consideration.
At least this Bucs line has proven it can pass block for a team that led the NFL in passing with a freakin' turnstile at right guard.
They're also a rather durable bunch. And Ali Marpet and Donovan Smith were once-upon-a-time starters on the punishing rushing attack of the 2015 Bucs. Dotson played well that season, too, after he returned from a major knee injury.
Yes, there is a small divide at JoeBucsFan.com world headquarters. One Joe and Sage columnist Ira Kaufman think the Bucs offensive line is a trouble spot and a potential weakness; the Joe typing here thinks the Bucs have far bigger concerns and likely won't get into a bidding war for the veteran, second-rate offensive linemen that fall off rosters later this week.
The reality is — good or bad — Bucs officials were happy with the offensive line after two preseason games. And they're likely too seasoned (stubborn?) to panic and not trust their coaches' ability to coach up the guys already in place.
Lots of fans around the NFL are crying about their teams' offensive lines — and many of those will cry all the way to the playoffs.
---
Derrick Brooks serves up his player perspective on the retirement of Andrew Luck. And there's more on TAMPA TWO with Ira Kaufman, presented by Caldeco Air Conditioning & Heating, a JoeBucsFan and The Identity Tampa Bay production. Great stuff!