Ryan Griffin = Kelly Holcomb
December 12th, 2019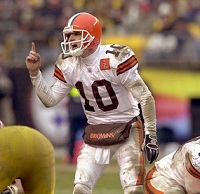 While some fans think Bucs backup QB Ryan Griffin is the next Ryan Fitzpatrick, Bruce Arians sees another QB when he looks at Griffin.
It's Arians' old backup quarterback when he was offensive coordinator of the Browns and Colts: Kelly Holcomb.
That's not a comforting analogy for Bucs fans who think there's a good chance Griffin will make his first NFL start on Sunday in Detroit because of Jameis Winston's injury.
But it makes Arians feel good. He made the Holcomb-Griffin analogy during the preseason, but four months later, he was emphasizing it last night on SiriusXM NFL Radio.
"He's one of those guys; he's always prepared," Arians told hosts Bill Polian and Zig Fracassi . Bill, he reminds me a lot of Kelly Holcomb. When he plays, he's going to play really, really good. He's been in the system. He knows it. He gets the ball out of his hand; he's accurate. So yeah, if Griff was to go in, I think everybody's got a ton of confidence."
Well, that sounded nice, but when Holcomb did get his shot with the Browns and Arians, he didn't play very well. So Joe will hope Jameis recovers quickly from his busted thumb.
However, Joe would love to see Griffin if Jameis isn't 100 percent. No need to force a QB with a messed up throwing hand into a meaningless game.