Arians Says Jameis Needed To Adjust To O.J.
December 12th, 2019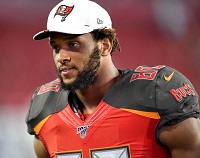 The struggles of O.J. Howard this season are well documented. But who was (is?) to blame?
Lots of fans hurled knives early at offensive coordinator Byron Leftwich.
Joe sure did, with a mindset of, 'hey, Howard's got mad skills, so find a way to use them.'
Leftwich typically told media Howard's production would have to happen organically, which is code for 'we're not changing the damn offense for O.J.' Of course, it didn't help anyone that Howard's hands failed him, beginning on opening day.
Four games ago, Howard had a goose egg against New Orleans, followed by 1 catch for 10 yards against Atlanta.
In the past two games, Howard has seen a significant revival, capped by four catches for 73 yards on Sunday.
Hall of Fame general manager Bill Polian asked Bruce Arians about the Howard surge last night, and Arians surprised Joe by putting a share of the slow growth on America's Quarterback, Jameis Winston.
"You know, it's taken him a while to adjust to the system and Jameis to adjust to him in the system," Arians said. "The last two weeks, you know, his numbers are up and I would they'd just continue to climb."
The Jameis part felt new to Joe. Three weeks ago, Howard came clean and said, "I'm finally getting the hang of it."
Bottom line: Howard is just too talented to be unproductive. He must be a valuable piece going forward. If not, the Bucs should find value for him on the trading block.
---
TAMPA TWO is on! Another great episode with Ira Kaufman presented by Caldeco Air Conditioning & Heating produced by The Identity Tampa Bay.