Key Happenings At Tuesday's Tampa Bay Vipers Practice
December 18th, 2019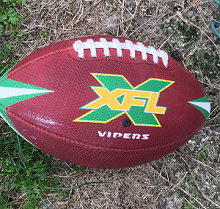 Minicamp practice No. 2 was brief but eventful yesterday.
Here's your need-to-know:
11-on-11 kicks off with former Buccaneer Vincent Testaverde Jr. getting the first reps at QB. Interesting to say the least. Aaron Murray quickly comes in and replaces him after two plays.
Someone who shouldn't be overlooked on this team is QB Taylor Cornelius. The former Oklahoma State signal caller has a very strong arm. He shows off that strength in 7-on-7, hitting the former Bucs receiver Freddie Martino with a crisp pass along the sideline on a 20-yard out route. Marc Trestman has made it known that every position is up for grabs. However, Cornelius isn't worried about earning the starting job so much as getting better each day. "I mean, I'm just taking it day by day and just competing out there and having a good time doing it," said Cornelius.
This wouldn't be a full practice report without mentioning the struggles of Quinton Flowers. He's just had a hard time throwing the football throughout these practices. This time it's a screen to his RB Jacques Patrick in the flat. Flowers flips to his right and sets his feet to throw but he throws the ball at the ground. The ball lands at the feet of the Patrick, who is just 3-4 yards away from Flowers.
Back-to-back picks! Just a few plays into 7-on-7, both Testaverde Jr. and Cornelius have interceptions taken back to the house! Testaverde Jr. threw the first, which was intercepted by cornerback Demontre Hurst from Oklahoma. Cornelius' pick was plucked out of the air by D.J. May from Wyoming. This defense is flying today.
If there's one thing this coaching staff is going to emphasize its special teams. Yesterday was punt coverages, today it's kickoffs. The Vipers spend a good 15 minutes combined in two separate kickoff sessions.
Zachary Seifter, the former manbeast JoeBucsFan.com intern, is the author of this XFL report. Find, cheer and harass Zach on Twitter, @zseifter.