Jameis Has Passing Yards Crown In Sights
December 2nd, 2019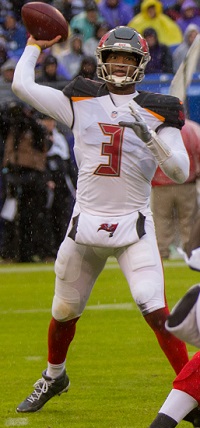 The bye weeks are finished and stats across the NFL finally are on an even plane.
And two gunslingers stand out from the crowd.
America's Quarterback, Jameis Winston, has 3,659 yards passing, just 129 yards behind Dak Prescott for the league lead with four games to play.
The Bucs do not have one good pass defense remaining on their schedule. The best of the bunch is the Colts on Sunday, and they are middle of the pack. Dallas has a tough Bears defense on Sunday, and a vastly improved Redskins defense later in the year.
When was the last time a Buccaneers quarterback led the NFL in passing yards? Joe's quite confident that never happened.
(Tonight's starting quarterbacks, Russell Wilson and Kirk Cousins, are so far behind Jameis they could not catch him even if they have historic games.)
Yesterday's showing against the Jaguars also bumped up Jameis' completion percentage this season to 60.2. That's a stinky total, but it's only one-tenth of a percentage point behind Andy Dalton and nine-tenths behind Tom Brady.
Regarding the passing title, in the 21st century, only Tom Brady, Ben Roethlisberger, Drew Brees and Peyton Manning, Philip Rivers, Matt Schaub, Daunte Culpepper, Rich Gannon and Kurt Warner have led the NFL in passing yards.
Joe would love to see Jameis bring home the honor, but Joe would prefer Jameis sit out the season finale to preserve his health and help score a better draft pick, and to finally see how Ryan Griffin handles himself in a real game.