"It's To A Point Where It's Funny Now"
December 23rd, 2019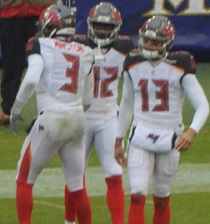 One former Buccaneer currently working for the team dropped a wisecrack after the first interception from Jameis Winston on Saturday.
And another former Bucs player shared a similar sentiment.
Film guru Xs and Os guy Dave Moore, the former Tampa Bay tight end, calls Bucs games for the team on the radio alongside broadcast icon Gene Deckerhoff. And when that predictable Jameis pick on the first possession came, Moore said, "The Bucs are just where they want to be."
Of course, Moore was referring to Jameis' crazy habit of throwing interceptions on the first offensive position of games.
Speaking on WDAE radio today, former Bucs guard Ian Beckles (1990-1996) said of Jameis' early picks, "It's to a point where it's funny now."
Bucco Bruce Arians was asked about the opening throw/opening drive interceptions today at One Buc Palace, and Arians said he remains perplexed.
Tampa Bay Times columnist John Romano sarcastically wrote this weekend that the Bucs should consider employing an "opener" quarterback to start the game and then be relieved quickly, much like the Tampa Bay Rays do in many games in which they don't use a traditional starting pitcher.
Jameis has tossed four interceptions in the opening possession through the last five games. In the game prior to that, he threw one that was overturned because of a delay of game penalty.
Joe get the comedy value, but it's really not funny when you bleed pewter and red.