"Unbelievable"
December 23rd, 2019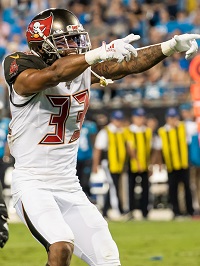 There is a grade of "A," and then there's something more impressive.
Second-year starting cornerback Carlton Davis had a special day Saturday covering superstar receiver DeAndre Hopkins of the Texans. It was a stunner. Hopkins had his worst game of the season, 5 catches for 23 yards.
Joe can't wait to really dive into the All-22 film to see how Davis performed.
Bucco Bruce Arians was asked about Davis today and gushed about his improvement.
"It was just a matter of better technique, better footwork [and] playing press man-to-man the way we want it played. He did an unbelievable job on DeAndre [Hopkins] – unbelievable," Arians said.
Davis has been inconsistent this season, but Joe's not going to take anything away from his performance against Hopkins. That's a special shutdown of an elite receiver. Still, Joe remembers when Bucs CB Sterling Moore shut down Julio Jones, Dez Bryant and Odell Beckham Jr. back in 2015, and his career never took off.
Joe hopes Davis can really build on Saturday's game, show up strong against Jones on Sunday and blossom into a consistent player in 2020.