Impatient RoJo?
December 11th, 2019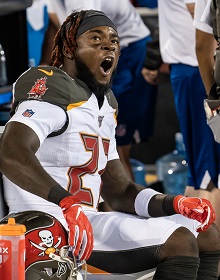 So why has Ronald Jones been struggling to be the running back the Bucs thought they drafted in 2018?
Bad pass blocker. Can't break a game-changing run. Can't beat out undrafted teammates Peyton Barber and Dare Ogunbowale for various duties.
What's going on?
RoJo showed a spark running the ball against the Giants and Rams in back-to-back games in September. Since then he's got 86 carries for 284 yards. That's a putrid 3.3 yards per carry over nine games.
Yes, RoJo is wonderfully improved from last year, but that doesn't say much.
Perhaps RoJo is too impatient?
Official NextGen Stats data from the NFL, generated by technology in balls and uniforms, reveals that RoJo averages 2.64 seconds behind the line of scrimmage each time he runs the ball. That's the fourth-lowest total in the NFL. Why is his number so low? Is he not allowing enough time for holes to develop?
Many of the best runners in the league are at 3 seconds behind the line of scrimmage per rush, or within a tenth of a second of that mark. Similar patterns were in play last season across the NFL.
Obviously, many, many factors are in play. Joe is only speculating while looking deeper into what's holding Jones back as former Bucs players in the trenches, Anthony Becht and Ian Beckles, say great things about the offensive line.
Plenty of Bucs O-line haters would say Jones is hit or pressured in the backfield too often, which in theory would raise his time behind the line of scrimmage.
Joe's just looking for answers on RoJo before breaking out the megaphone to demand the Bucs fix the running back position for the fourth consecutive offseason.