"He Works His Ass Off"
December 27th, 2019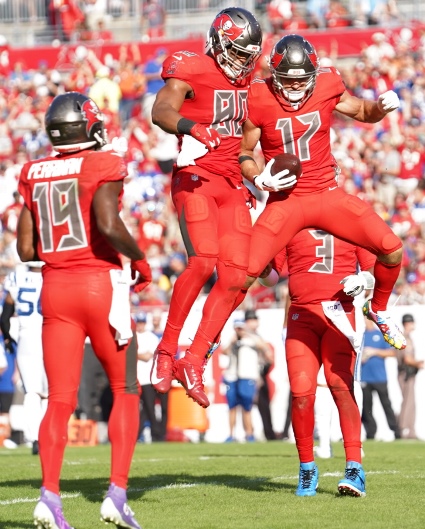 Man, listening to this insider take on wide receiver Justin Watson, Joe has to wonder why Bobo Wilson was playing in front of him.
For those wondering, when Wilson was cut in October, he sat on the street for two months until the Panthers signed him to their practice squad two weeks ago.
Watson finally got a chance three games ago, and the second-year player out of the University of Pennsylvania has 12 catches for 119 yards and two touchdowns since he hit the field against Indianapolis on Dec. 8.
Mike Evans offered his opinion of Watson this week on Buccaneers Radio.
"He does it all; I mean, really," Evans said of Watson. "He can play X or Z; he knows it all. He's a really smart football player. And he improved so much from last season in just one year. He got in. He got the experience a little bit. Sat back, plotted, came back. He was better at the line of scrimmage on releases. He caught the ball better down the field, making big plays. He transformed his game a lot, man. He works his ass off. He can play all positions for us. And he's been making plays when we give him the ball."
If the Bucs can find a way to retain Breshad Perriman, then they certainly would be set at receiver for 2020, with Watson and Scotty Miller battling for the No. 4 and No. 5 receiver gigs.
Joe's not sure Watson and Miller are ready for a true No. 3 role. But they are two more young Bucs on the rise and it feels good that the team has plenty of players in that category.